Tuesday, October 11, 2005

THE FARE STRIKE CONTINUES!

PAY MORE TO WAIT LONGER?
NO WAY!

STOP THE SERVICE CUTS!
REVERSE THE FARE HIKE!
BELOW:
* Two Dollar Fare in the Works
* Senior Survival School
* Letters to the Editor
* Muni Fare Strike: The First Month (Beyond Chron)

TWO DOLLAR FARE IN THE WORKS


For those of you still paying the fare, and just getting used to $1.50, get ready for the next set of fare increases.

If you think we are crying wolf, check out this memo from former Muni director Michael ("$280,000 per year") Burns:

"Staff is viewing a potential FY06 fare increase within a five-year window. For example, were the adult cash fare to be increased to $1.50 in FY06, then staff believes it makes sense to plan on increasing this fare by a quarter in both FY08 and FY10, resulting in a $2.00 adult cash fare in the final year. All other categories would be similarly increased."

Check out the memo for yourself on Muni's website. The quote is from page 4:
http://www.sfmuni.com/cms/brd/mta/documents/FY2005RevenueProposalsmemoFeb12005.pdf

So, start saving your quarters -- or just stop paying the fare right now.

SENIOR SURVIVAL SCHOOL

Muni Fare Strike recently participated on a panel at the Senior Survival School, organized by Planning for Elders in the Central City. Our representative, who has a few gray hairs herself, reports:

"I spoke on a panel about senior transportation issues. Others panelists spoke of paratransit, disability access and crime prevention issues. When I was introduced as speaking from Muni Fare Strike about 'transit justice issues,' I immediately got winks and nods from the seniors present. My presentation included an acknowledgment that seniors might have to risk not having the co-pay for their medicines at the end of the month if they buy a fast pass, and that talk of crime prevention safety tips are meaningless when we are riding like sardines on the bus.

"Responses to my presentation included several people complaining of crowded and unreliable buses since the service cuts. One senior complained about the 52-Excelsior, and how hard it is for her as a senior with arthritis to walk up a hill only to have to wait 30 minutes now for a bus to come. Another senior insisted that many of the students who get on through the back door can't afford the fare and should ride for free.

"I finished up by telling the seniors that I have been easily riding for free the past month, nodding at the drivers as I enter the front door. I was given hugs and kudos when I left. La lucha continua!"

LETTERS TO THE EDITOR

The September 24 San Francisco Chronicle article, printed the day the service cuts officially began, included some outrageous claims by Muni's mouthpiece, Maggie Lynch. Some readers sent letters to the Chronicle in response to Lynch's comments, but the Chronicle didn't see fit to print them. One of the letters did get printed, however -- by the Examiner.

Below are two excellent letters.

MUNI CUTBACKS
SF Examiner
September 28, 2005
David Tornheim, davidtornheim@hotmail.com
http://www.sfexaminer.com/articles/2005/09/28//opinion//20050928_op02_readers.txt

"Muni's spokeswoman, Maggie Lynch, claims that despite recent service cuts, Muni is providing more service than six years ago. What she hides is that the increase was primarily to areas that are developing, but not to established neighborhoods such as the Western Addition. The schedules for our lines have been unchanged for over 10 years, and I have the old schedules to prove it."

IF MUNI RAN ONE BUS A DAY,
THEY JUST MIGHT GET THAT ONE BUS TO BE ON TIME...
Iris Biblowitz and Fran Taylor

"You can't argue with Muni's logic that cutting service will make it more reliable ('Reductions at Muni mean longer waits, fewer stops,' Sept. 24). If Muni ran one bus a day, they just might get that one bus to be on time. How practical is that?

"The claim that riders will have to wait only an extra minute or two demonstrates that Muni officials rarely venture near their own buses. Each such delay makes a bus more crowded, which slows it down, which makes it even more crowded, which slows it more, and so on. Eventually, the bus becomes so packed it passes riders by, and a 10-15 minute wait becomes a 20-30 minute wait, hardly just an extra minute or two.

"Muni's Maggie Lynch also trots out that tired line about how cheap our fares are compared with, say, New York City. She fails to mention that San Francisco is just shy of 50 square miles, while NYC is a little over 300 square miles. Our fares are hardly one-sixth of New York's. And saying that service is 'above the levels of six years ago' is like bragging that you've stopped beating your wife.

"Frank Jordan tried to kill Muni, and his days seem to be returning. When Mayor Newsom signed on to the World Environment Day accords to much fanfare in June, he must have skipped reading the one proposing a 15% increase in public transit before he glibly supported a 4% cut in service instead.

"The poor and working people who must use Muni are not comforted by pabulum about how raising fares and cutting service is going to make it better or lies about how all alternatives were exhausted. Muni cavalierly threw away a $9 million windfall in May, handing it out to drivers of private cars, and never pursued a solution that would charge downtown businesses for the delivery of their workers. Spare us the hypocrisy."

MUNI FARE STRIKE: THE FIRST MONTH
Beyond Chron
October 4, 2005
Marc Norton
http://www.beyondchron.org/link.asp?smenu=110&sdetail=2560

"Randy Shaw recently wrote that 'progressives are far less willing than conservatives to reassess longstanding priorities and organizational structures despite their failure to achieve success. Here in San Francisco [the] progressive movement... remains as wedded as ever to the failed structures and agendas of the past... Activists have followed the same script year after year, working around the edges while the corporate agenda dominates.'

"Progressive politics in San Francisco is broken, just like politics nearly everywhere in the USA. Wherever we turn, one progressive politico or another is declaring this or that victory, while life gets harder and meaner for most of us, the rich get richer, politics gets nastier, and neo-fascist repression grows by leaps and bounds. When I was in college, many years ago, we called such contradictions 'cognitive dissonance.' A more down-to-earth phrase involves male bovines and excretion.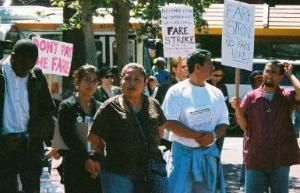 "The Muni fare strike is an attempt to break out of the 'failed structures and agendas of the past' by taking politics directly to the masses of poor and working people in this town. It is an attempt to break the grip of the dead hand of our numerous political cliques, both 'progressive' and otherwise, who often seem to view their place in the scheme of things to be more important than winning real power for the people they claim to represent. The Muni fare strike, in essence, is an attempt to become the agents of our own liberation..."

Complete article:
http://www.MarcNorton.us/46014/68770.html

THE FARE STRIKE CONTINUES!
PAY MORE TO WAIT LONGER? NO WAY!

STOP THE SERVICE CUTS!
REVERSE THE FARE HIKE!