by Malorie Lucich, staff writer
September 23, 2005
http://xpress.sfsu.edu/archives/breaking/004285.html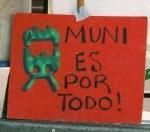 As of Saturday, September 24, Muni will enforce even more service cuts affecting SF State students. Besides the recent increase in fare from $1.25 to $1.50, the 26 - Valencia bus will no longer be coming to the campus.

These upcoming adjustments, which have not been as heavily publicized as the fare hike, are another action taken by Muni to make up for its $57 million budget deficit. As a result, changes will be made to over 20 bus lines.

According to Muni's website, the adjustments will include changes in scheduled frequency, routing, and hours of service.

"It's just another example of the poor – sighted Muni system one – upping the common man," said Design and Industry senior Greg Schroeder.

The 26 bus line will be receiving more severe cuts than others. All service between Balboa Park and SF State will be eliminated. Students living in the Mission, Bernal Heights, Excelsior, Ingleside, Sunset and Parkside areas will have to make changes in their modes of transportation.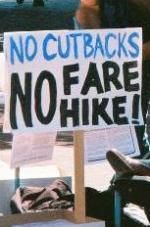 Muni spokeswoman Maggie Lynch could not be reached for comment.

Senior Art major Justin Rands, 21, does not think that any bus line that goes to a school should fall victim to service cuts.

"I'm shocked and appalled that this kind of lunacy is going on in our city," Rands said. "I rely on this bus everyday to get to and from school easily. The 26 bus line is now considered the ghost line in our (part of) town. That's really disappointing."

Besides the elimination of services, cuts will also be made to the number of runs each day. On weekdays and weekends the 26 will run every 20 minutes during the day and 30 minutes in the evening.

"I take the 26 multiple times a day and it's always carrying other SF State students," said Schroeder, 21. "Now I will have to make multiple transfers of routes and add in even more time to get to school."

Muni Fare Strike representative Riva Enteen said that the elimination of a bus line that goes to a school is outrageous and disrespectful to students.

"I have two non-American women living with me and they can't imagine any other country ending a bus service that goes to a college," Enteen said.

According to Enteen, the recent cuts contribute to the process of depleting service in the southern part of town.

The cuts may also increase traffic as riders either refuse to take Muni or find it no longer convenient and start driving their own vehicles.

Students formerly dependent on the 26 bus will have to turn to BART and the M – Ocean View line. Options include taking either the 26 or BART to Balboa and then the M – line to SF State.

Reductions in service have also been made to such popular lines as the 14 – Mission, 22 – Filmore, 24 – Divisadero, 38 – Geary and 47/49 – Van Ness. The 7 – Haight will lose all of its mid – day and weekend runs as well. The 17 – Park Merced bus will have changes in frequency with it arriving every 30 minutes during midday and evening times as opposed to the prior 20.

Meanwhile students who must continue to rely on Muni see no other options.

"They raised the fares and cut the services, thanks a lot Muni," Schroeder said. "I have no other choice but to continue riding among a sea of terrible planning and foresight."

For more information on the most recent Muni service adjustments, visit Muni's Website, www.sfmuni.com.

» E-mail Malorie Lucich @ mlucich@sfsu.edu