Friday, September 2, 2005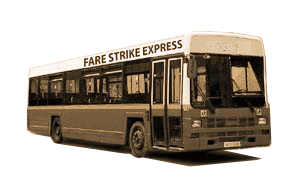 THE FARE STRIKE IS ON!
WE ARE NOT PAYING MORE TO WAIT LONGER.

NO MUNI FARE HIKE!
NO MUNI SERVICE CUTS!

The fare strike continues, and goes on until Muni reverses its fare hike and service cuts. Basta!

DAY ONE

On the first day of the fare strike, Thursday, September 1, Muni mobilized squads of security guards, fare inspectors, administrators and police to combat fare strikers. Some transit locations expected to be hot spots for the fare strike were under virtual occupation by these Muni security teams -- particularly in low-income neighborhoods like the Mission where support for the fare strike has been and remains strong.

Yet fare strike organizers continued to agitate at transit hubs like 16th and Mission, 24th and Mission, Geneva and Mission, and the Balboa BART station, right under the nose of the Muni counter-insurgency squads. Often riders getting on or off the bus were virtually surrounded by Muni security, seeking to prevent fare strike organizers even from handing them a leaflet. But when the Muni squads missed surrounding a particular bus, or backed off a bit, many fare strikers found their way aboard.

Despite Muni's show of force and intimidation tactics, hundreds of fare strikers boarded Muni at these occupied transit hubs during the course of the day. There were a few tickets handed out, but most of those have already been referred to our legal team. More than once, fare inspectors let several fare strikers get on, then picked off the last one to ticket as an example.

Most significantly, everywhere fare strike organizers went during the course of the day, out-of-sight of the occupied transit hubs, we found riders willing and eager to participate in the fare strike, and found few drivers interested in being the fare police. Reports are still being collected, but it is clear that many, many riders actively participated in Day One of the fare strike, in many different parts of town. The corporate media has so far concentrated its reports on the occupied transit hubs, and has done little to investigate conditions elsewhere in town.

In the late afternoon, the action shifted downtown. Fare strike organizers again went head-to-head with a large Muni security squad at 4th and Market, and again we found many riders eager to hear our message. Other organizers spread out around other parts of downtown and the surrounding neighborhoods, where the Muni security presence was nil, and found a great deal of support. Again, we are still collecting reports of the action downtown in the afternoon.

What became obvious during the course of the day was that the Muni security squads were actually making converts for the movement for transit justice, as many riders were angered to find themselves surrounded by these squads, blocking their way and slowing down the busses.

In one egregious example, Muni administrators, worried about a crowd of riders waiting to get on through the back doors of an articulated bus at 16th and Mission, ordered the driver to keep the back doors closed, even though there were dozens of riders trying to get out. Instead, Muni administrators ordered the driver to force riders to get out the front door, which caused a long delay, virtually holding people in the bus hostage for several minutes.

The fare strike continues...

THUGS FOR MUNI?

The most serious incident we have heard yet started when one of the Muni security people grabbed a man by his pants at 16th and Mission who had entered a bus through the rear door, and dragged him back out into the street. This illegal and improper action naturally led to an altercation, with several Muni security people getting involved, who ended up chasing the guy up the street, and roughing him up before the police finally intervened and detained him. It appears that our extra quarters are now being used to hire security squads to rough up riders for trying to ride the bus.

MUNI FARE STRIKE LEGAL TEAM

Despite all the press about $113 to $500 tickets for fare evasion, the Muni fare inspectors on the street yesterday were passing out "sample tickets" that stated that the maximum fine is $75. This confirms what we have been saying -- namely that the first ticket is $35, the second ticket is $55, and the third and following tickets $75. As previously reported, our Muni Fare Strike Legal Team, working together with the National Lawyers Guild, is up and running. Our lawyers, will defend anyone who gets a ticket or has other legal problems as a result of the fare strike. If you get a ticket, call our legal team at 285-1011, and let us defend you. More info on the legal team is at www.munifarestrike.net/8328.html.

THE FARE STRIKE IS ON!
WE ARE NOT PAYING MORE TO WAIT LONGER.

NO MUNI FARE HIKE!
NO MUNI SERVICE CUTS!