Monday, September 26, 2005

THE FARE STRIKE CONTINUES!

PAY MORE TO WAIT LONGER?
NO WAY!

STOP THE SERVICE CUTS!
REVERSE THE FARE HIKE!
Monday is the first weekday under the new Muni service cut regime.
Are you having a good day?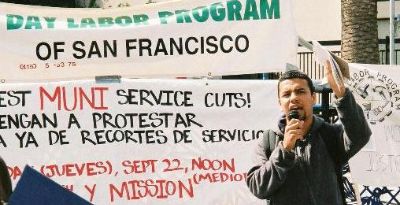 For photos and a short video of last Thursday's rally and press conference against service cuts, click here.

________________________________________________________________________

RECENT PRESS COVERAGE
See below:

Reductions at Muni Mean Longer Waits, Fewer Stops
SF Chronicle, by Charlie Goodyear

Muni to Cut Bus Routes, Students Deeply Affected by Less Transportation Options
The Golden Gate [X]Press Online, by Malorie Lucich

Muni: Free Rides to be a Thing of the Past [so they say]
SF Examiner, by Marisa Lagos
________________________________________________________________________




REDUCTIONS AT MUNI MEAN LONGER WAITS, FEWER STOPS
by Charlie Goodyear,
September 24, 2005
______________________________________________

"MTA," she said, referring to Muni's parent organization,
the Municipal Transportation Agency.
"Misery, Trauma and Anguish."
______________________________________________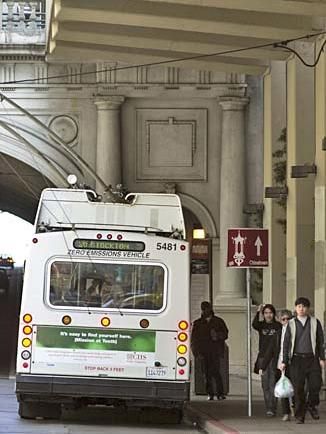 Patrons of San Francisco's Municipal Railway, who are already paying 25 cents more a regular ride, now may have to wait longer for a bus when service cuts and route adjustments take effect today...

Activists who have been protesting an increase to $1.50 in the Muni's general fare that began September 1... argue that cutting back on service now is simply adding insult to injury...

"You will find that riders are pissed off," said Riva Enteen, who helped organize a protest in the Mission District on Thursday. "They will not pay more for less."

Muni rider Tonie Brock was at the protest to argue against changes to the 52-Excelsior line...

"MTA," she said, referring to Muni's parent organization, the Municipal Transportation Agency. "Misery, Trauma and Anguish..."

Full article at:
http://www.sfgate.com/cgi-bin/article.cgi?f=/c/a/2005/09/24/bagg9et3251.dtl

(Click here to see two letters to the editor in response to this article.)


MUNI TO CUT BUS ROUTES,
STUDENTS DEEPLY AFFECTED
BY LESS TRANSPORTATION OPTIONS
by Malorie Lucich
September 23, 2005

As of Saturday, September 24, Muni will enforce even more service cuts affecting SF State students. Besides the recent increase in fare from $1.25 to $1.50, the 26-Valencia bus will no longer be coming to the campus...

"It's just another example of the poor-sighted Muni system one-upping the common man," said Design and Industry senior Greg Schroeder.

The 26 bus line will be receiving more severe cuts than others. All service between Balboa Park and SF State will be eliminated. Students living in the Mission, Bernal Heights, Excelsior, Ingleside, Sunset and Parkside areas will have to make changes in their modes of transportation.

Muni spokeswoman Maggie Lynch could not be reached for comment.

Senior Art major Justin Rands, 21, does not think that any bus line that goes to a school should fall victim to service cuts.

"I'm shocked and appalled that this kind of lunacy is going on in our city," Rands said. "I rely on this bus everyday to get to and from school easily. The 26 bus line is now considered the ghost line in our (part of) town. That's really disappointing."

Besides the elimination of services, cuts will also be made to the number of runs each day. On weekdays and weekends the 26 will run every 20 minutes during the day and 30 minutes in the evening.

"I take the 26 multiple times a day and it's always carrying other SF State students," said Schroeder, 21. "Now I will have to make multiple transfers of routes and add in even more time to get to school."

Muni Fare Strike representative Riva Enteen said that the elimination of a bus line that goes to a school is outrageous and disrespectful to students.

"I have two non-American women living with me and they can't imagine any other country ending a bus service that goes to a college," Enteen said...

Full article, click here.


MUNI: FREE RIDES TO BE A THING OF THE PAST
by Marisa Lagos
September 26, 2005

As Muni cuts service and increases ticket prices, the agency is also promising to get tough on fare evaders, who could be costing the cash-strapped system millions of precious dollars a year...

"Bring it on," [Rescue Muni Executive Director Andrew Sullivan] said of the new program [or is that George Bush talking about Iraq?]...

"It shows that the fare strike is having an effect and that they're worried about it," said [Marc Norton of Muni Fare Strike].

Full article at:
http://www.sfexaminer.com/articles/2005/09/26/news/20050926_ne01_muni.txt