Thursday, September 8, 2005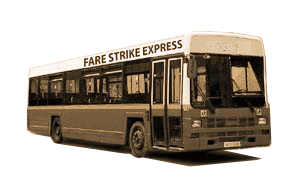 THE FARE STRIKE IS ON!
PAY MORE TO WAIT LONGER?
NO WAY!

NO MUNI FARE HIKE!
NO MUNI SERVICE CUTS!

The fare strike continues, and goes on until Muni reverses its fare hike and service cuts. Basta!

Please contact us if you want flyers. You can also download flyers from our website. Click here.


PRESS RELEASE
Muni Fare Strike
For immediate release
Thursday, September 8, 2005
8:30 AM

According to figures released by Muni, cash revenue collected at the farebox has dropped since the cash fare was increased on September 1.

This decrease has occurred despite the 20% increase in the adult cash fare, and the 40% increase in the youth, senior and disabled cash fare.

If this decrease in revenue continues, it will mean a loss of millions of dollars per year for Muni, rather than the multi-million dollar increase projected by Muni managers as a result of the fare increase.

Here are the figures:

Muni collected an average of $169,011 per day on Monday, August 29 through Wednesday, August 31. Yet on Thursday, September 1, the day the fare increase was implemented, cash fare revenue declined to $150,529.

This is an 11% decrease from the average of the first three days of that week.

Cash fare revenue was up at the beginning of the week starting Monday, August 29, most likely as a result of the opening of San Francisco's public schools.

Even comparing Muni's farebox revenue to the whole month of August, which included only three days during which public schools were in session, the $150,529 cash revenue collected on September 1 represented a decline from the $152,654 cash revenue average for August.

On Friday, September 2, cash revenue declined again to $143,305. This was the day before the Labor Day weekend.

The decline in cash revenue continued through the Labor Day weekend. Compared to last year's Labor Day weekend, cash fares declined by nearly 14% -- despite the increase in the cash fare this year.

(Fares collected during this year's Labor Day weekend, Saturday, September 3 through Monday September 5, totaled $210,331. Cash revenues collected during the during the 2004 Labor Day weekend, Saturday, September 4 through Monday, September 6, totaled $244,523.)

At the time of the release of this statement, no figures were available from Muni for cash fares collected on Tuesday, September 6 or Wednesday, September 7.

IF THESE REVENUE TRENDS CONTINUE, MUNI'S INCREASE IN THE FARE WILL ACTUALLY INCREASE MUNI'S BUDGET PROBLEMS -- NOT HELP RESOLVE THEM.

Muni is planning on implementing a wide-ranging set of service cuts before the end of this month. These service cuts will inevitably increase rider dissatisfaction with the system, and may well lead to an even greater decline in farebox revenue.