Tuesday, September 6, 2005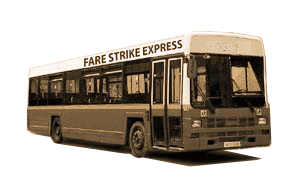 THE FARE STRIKE IS ON!
PAY MORE TO WAIT LONGER?
NO WAY!

NO MUNI FARE HIKE!
NO MUNI SERVICE CUTS!

The fare strike continues, and goes on until Muni reverses its fare hike and service cuts. Basta!

Please contact us if you want flyers. You can also download flyers from our website. Click here.

BELOW:
* Call for Organizers
* Another Report from Day One
* Update on Muni Security Thuggery
* Muni Fare Strike Legal Team

CALL FOR ORGANIZERS

As can be seen from the report below, a small team of organizers can have a big impact if we adapt our organizing tactics to the concrete situation. We are now actively recruiting new organizers to join our teams, and help spread the fare strike throughout the city. Want to join us? Give us a call at (415) 648-2535, or email us at MuniFareStrike@yahoo.com. Solidarity in action is the key to victory.

ANOTHER REPORT from DAY ONE

The following is a report from one of the Muni Fare Strike organizing teams on Day One of the fare strike. Their experiences are very instructive, and show the evolution over the course of the day from a team working at one fixed location, to a mobile organizing team spreading the word about the fare strike by example throughout the city.

"On the first day of the fare strike, our team of six (including one Chinese, one Korean and one Spanish speaker) went to our post at Divisadero and Geary at 7:30 AM, where we had a steady flow of 38-Geary buses, the busiest line in the City, as well as a less frequent cross flow of the 24-Divisadero. We had one large banner that simply said FARE STRIKE Starting Sept. 1, and lots of smaller posters that we either carried as picket signs or taped up to the bus shelters in all four directions (click here).

"We started handing out leaflets to riders and drivers. There was no Muni security around at this point. Two of us flyered the fairly frequent 38-Geary buses going outbound and even put English, Chinese and Spanish fare strike stickers over the Muni stickers on the glass of the back doors warning riders not to enter using the back door. One driver stopped, got out of the bus motioned me forward and asked me to put stickers on the front door. I was surprised and elated. (In the late afternoon I saw the same bus downtown, and the English and Chinese fare strike stickers were still on the front door.)

"Muni light duty employees -- the first guy said he was a driver on disability -- started arriving after 8:00 AM. They did not interfere with us, but were handing out photocopied sample citations and a Muni brochure about the fare increase. We had initially concentrated all our efforts on the southwest corner to the 38-Geary buses inbound to downtown. When more Muni employees arrived, we spread out to all four bus stops.

"Many riders noticed our large FARE STRIKE banner and could see us with our picket signs. We got a lot of thumbs-up. One man slid the narrow window open and motioned with his hand for me to give him some flyers. I handed him a bunch and they instantly got distributed to everyone sitting near him. Obviously others wanted to see what the flyer said, so I gave him another larger pile and they quickly went both ways up and down the long, articulated bus. When the bus drove off I could see people eagerly reading the flyer at both the front and the rear of the bus. We got several thumbs-up from that bus.

"Around 9:00 AM more Muni fare enforcement folks showed up, one even appeared to be some kind of a bureaucrat, and it was crowding us out of the narrow sidewalk of the southwest corner stop for the 38-Geary. We were nearly out of flyers anyway, so we decided to see if we could re-supply ourselves at 16th & Mission and start getting on the buses.

"Mission and 16th had a huge cop presence when we got there just after 10:00 AM. So, after checking in with the organizers there, a couple of us hit the buses by walking down Mission a block to the next bus stop. The first time was pretty easy. Just a word or two about being on 'fare strike' and not paying and whoosh, we were on -- with the people at the front of the bus having seen what we had just done and we started flyering them. Then to the end of the bus and off, having flyered everyone, and then across the street, on again in the opposite direction and we did it again... and again... and again.

"We took a break for lunch, lost a couple comrades from our early morning team of six, and four of us spent the rest of the afternoon surfing buses up and down Mission and to downtown. In that stretch, we must have ridden around fifteen buses, flyered nearly everyone on board and several times we had forums at the back of the bus with pissed off folks who were totally angry and 100% behind participating in a fare strike themselves, many still fired up and talking among themselves when we jumped off and got on another bus.

"In all that time only ONE driver said 'No, you can't enter my bus without paying the fare.' (All day I rode over twenty buses and he was the only one.)

"About 4:30 PM we went to 4th & Market. It was the biggest Muni enforcement circus we had seen all day. So our team, now down to two people, headed down the block to Market and Kearny, which did not really build up crowds like at 4th and Market. We just started surfing buses and flyering on them from there into Chinatown. We had patched two signs together to read FARE STRIKE in English, NO MUNI FARE TODAY in Spanish and RIDERS DON'T PAY -- DRIVERS DON'T COLLECT in Chinese. At the bus stops it became a powerful magnet for enthusiastically supportive Chinese people. We got on and off the bus going in the same direction several times and then walked up from Columbus to Stockton.

"It was totally amazing, wherever we went with the sign, people came up and thanked us and asked for a copy from the pile of flyers in our hands. We got stopped in front of a fruit and vegetable grocery and could not leave because so many people were coming up to us. Finally, after giving out what seemed like a hundred flyers in a matter of minutes, we got on the buses again. We went a block, got off and it happened all over again. And then did it again... and again.

"At another crowded bus stop, a pleasant middle-aged Chinese woman of moderate English ability kept saying that it sounded like a good idea to fare strike, but the driver wouldn't let us do it. We assured her that she could, but she and the crowd of others hanging on our every word didn't believe us. So, we got to the front of people piling onto the bus and got on and told the driver we were on fare strike and then just kept walking down the aisle. The middle-aged woman followed, with some high school girls in tow, and all of them were beside themselves with delight, completely giddy with satisfaction of having got on for free. We got off soon after and as we were leaving asked them to show others how to do it. It was a magical experience of seeing people empower themselves.

"By then we were going through the Stockton Tunnel and got out before Union Square. Still, people would see the sign and ask for a flyer and then thank us.

"We ended up back at 4th & Market as it was getting dark, things were winding down and soon after we called it a night. All-in-all, I would have to say that it was a very successful day, especially after we realized that the best way to foment the fare strike was riding for free -- and encouraging others to do likewise."

[More reports to come...]

UPDATE on MUNI SECURITY THUGGERY

As reported in our previous bulletin, one rider was arrested at 16th and Mission on Day One of the fare strike. The incident started when a Muni security guard grabbed this rider by the seat of his pants after he had entered a bus through the back door, and dragged him back out onto the street. The inevitable altercation ensued, the man was chased up the street by several Muni guards, roughed up and then arrested.

The rider is now in jail, charged with assault. A Muni Fare Strike Legal Team lawyer will be representing him, and we have witnesses who can testify about what really happened. If anybody is to be prosecuted, it should be the Muni security squad that inflicted corporal punishment on this rider for the dastardly crime of getting on the bus by the back door.

A San Francisco jury recently awarded $27 million to the family of a 4-year-old girl who died after being struck by a Muni truck, one of the largest personal injury awards ever against the City. How many fare increases will we have to suffer to pay for that? The Muni officials who are running the security squads combating the fare strike should think long and hard about the fact that San Francisco juries, both criminal and civil, do not seem to hold Muni officialdom in very high regard.

MUNI FARE STRIKE LEGAL TEAM

Remember, our lawyers, will defend anyone who gets a ticket or has other legal problems as a result of the fare strike. If you get a ticket, call the Muni Fare Strike Legal Team at 285-1011, and let us defend you. For more info on the legal team, click here.

THE FARE STRIKE IS ON!
PAY MORE TO WAIT LONGER? NO WAY!

NO MUNI FARE HIKE!
NO MUNI SERVICE CUTS!