Thursday, September 1, 2005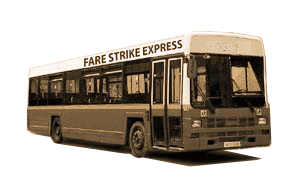 THE FARE STRIKE IS ON!
PAY MORE TO WAIT LONGER?
NO WAY!

NO MUNI FARE HIKE!
NO MUNI SERVICE CUTS!

The fare strike begins today, and goes on until Muni reverses its fare hike and service cuts. Basta!

DOWNTOWN GROUP CALLS FOR MORE SERVICE CUTS

On the eve of the Muni fare strike, the San Francisco Planning and Urban Research (SPUR) group has released a report calling for the elimination of multiple Muni lines, and the removal of many bus stops on major lines along Market Street, Mission Street and 19th Avenue. SPUR is a notoriously corporate, pro-downtown "think tank," which often fronts for downtown commercial property owners and landlords. Their report calls for Muni riders to learn to do "more with less." Absent from their report, not surprisingly, is any call for new revenue for Muni from SPUR's downtown patrons.

ALL ABOARD?

In a blatant attempt to combat the fare strike, Muni has pasted the back doors of many buses and streetcars with signs warning riders that they must board through the front door. This is totally contrary to Muni policy in recent years, which has been to encourage people with valid fast passes and transfers to board at the rear. Allowing riders to board at the rear prevents bottlenecks at the front of the bus. Otherwise, the bus is forced to wait at the stop longer, which slows down the entire operation. Muni is so intent on picking riders' pockets that they are apparently willing to sabotage the system and further inflame rider sentiments.

NO LAYOFFS?

Muni's public relations flacks have been putting out the word that layoffs of drivers have somehow magically been avoided, despite all the service cuts in process. However, according to sources within the drivers union, not one single layoff notice has been rescinded. In any event, as drivers regularly retire, quit or get discharged, none are being replaced -- meaning one less bus on the street every time Muni loses a driver. Meanwhile, thousands of unemployed working class people are looking for work, while the rich get richer and the poor get poorer...

WEEKLY PASS BUMPED FROM $12 TO $15

Muni has made much of the fact that they didn't raise the cost of the monthly Fast Pass this time around, although they raised it $10 just two years ago. But they haven't been so eager to trumpet the fact that they have increased the cost of the weekly pass from $12 to $15, an increase of 25%. The weekly pass is used by many low-income people who can't afford to shell out $45 at the beginning of the month. As we said, the poor just keep getting poorer...

MUNI FARE STRIKE LEGAL TEAM

It has become obvious that Muni is running a scare campaign to try to frighten riders away from participating in the fare strike. They have put out all sorts of nonsense about fare inspectors and tickets, claiming they cost anywhere from $113 to $500. The fact is that, according to city laws, the first ticket is $35, less than the cost of most parking tickets. In any event, we have established a Muni Fare Strike Legal Team, and our lawyers will defend anyone who gets a ticket or has other legal problems as a result of the fare strike. If you get a ticket, call our legal team at 285-1011, and let us defend you. More info on the legal team is at http://www.munifarestrike.net/8328.html.

THE FARE STRIKE IS ON!
WE ARE NOT PAYING MORE TO WAIT LONGER.

NO MUNI FARE HIKE!
NO MUNI SERVICE CUTS!