Monday, September 19, 2005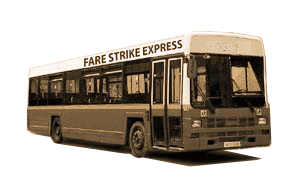 THE FARE STRIKE CONTINUES!

PAY MORE TO WAIT LONGER? NO WAY!

STOP THE SERVICE CUTS!
REVERSE THE FARE HIKE!

BELOW:
* United Press Conference Against Muni Service Cuts
* Muni Cash Fare Revenue Stays Flat

UNITED PRESS CONFERENCE AGAINST MUNI SERVICE CUTS

The Coalition for Transit Justice, Social Strike and Muni Fare Strike have come together to rally against the upcoming Muni service cuts. We will be holding a united press conference this Thursday, September 22, at Noon, at 16th and Mission. Everyone is welcome.

Starting Saturday, September 24, Muni plans to cut service on more than thirty lines. Although Muni plastered the city with signs about its recent fare hike, they have been pretty quiet about the impending service cuts.

But riders will surely notice, starting Saturday. Many lines will have fewer buses, including major routes like the 14-Mission, 22-Fillmore, 24-Divisadero, 38-Geary, and 47/49-Van Ness. On these and other lines riders will be forced to wait longer and to ride buses that will be even more crowded.

Some lines will shut down altogether at certain times, such as the 7-Haight, which will lose all its mid-day and weekend runs. On some lines, routes will be shortened. For example, the 26-Valencia will no longer go to SF State, and the 66-Quintara will no longer go downtown.

For a complete list of of cuts, listed by line, click here.

In addition to forcing Muni riders to wait longer for more-crowded buses, these service cuts will inevitably drive many riders off Muni and into their cars, thus reducing Muni revenues, and making our streets more congested for both drivers and pedestrians.

Muni had previously talked about reducing service on the Metro lines -- the J, K, L, M and N -- but now they claim that cuts to these lines "are not taking place in September." October? November? Maybe for Christmas.

Of course, these service cuts are even more outrageous, given the recent 20% to 40% increase in fares. Muni's managers apparently expect us to have such a short memory that we won't realize that we are paying more for less.

Right now, solidarity in action is the watchword. So, whether you are part of the Coalition for Transit Justice, Social Strike, Muni Fare Strike or are just an angry rider, come on out to the united press conference on Thursday if you can. Basta!

MUNI CASH FARE REVENUE STAYS FLAT

We reported last week that we were told to direct all information requests about Muni revenue to Maggie Lynch, Muni's public relations officer, instead of Muni's revenue department. And so we did. However, Ms. Lynch did not answer our calls for several days. Then, after the much-appreciated intervention of Supervisor Chris Daly, we got our calls returned, and, after a couple more days, we finally got some new revenue figures.

The news isn't all that good for Muni's managers. As we reported previously, Muni collected an average of $169,011 per day on Monday, August 29 through Wednesday, August 31. This was the week that San Francisco's public schools reopened. Yet on Thursday, September 1, the day the fare increase was implemented, and the first day of the fare strike, cash fare revenue declined to $150,529.

The new figures given to us by Muni include weekday cash revenue through Friday, September 9. The average cash revenue on those weekdays was $168,342 (excluding the Friday before the Labor Day weekend and Labor Day itself, both of which were considerably below normal).

While that $168,000 is up from the $150,000 of the first day, it is still below the $169,000 average in the days just before the fare hike.

In other words, despite Muni's fare increase of 20% for adults, and 40% for youth, seniors and the disabled, weekday cash fare revenue has remained virtually flat during this period. That won't even pay for all those "new fare" signs they stuck up everywhere.

When Muni's service cuts hit next Saturday, forcing Muni riders to wait longer for more crowded buses, one can only expect cash fare revenue to take another hit. Stay tuned.

THE FARE STRIKE CONTINUES!
PAY MORE TO WAIT LONGER? NO WAY!

STOP THE SERVICE CUTS!
REVERSE THE FARE HIKE!